For the past 13 years I've been writing this monthly blog about my ponies and my carriages and my riding sports - foxhunting and Endurance riding - writing long before blogs became popular... or even long before the word "blog" became part of our lexicon. During that time I competed in Endurance for 12 of those years with my Welsh/Arab, Beaverwood Spiderman (Itchy) and in 2010 we achieved the Decade Team Award from the AERC for 10 years of Endurance (50 miles and up) as a team. In 2008 I won a USEF Pegasus Award for an article I had written for Endurance News, and a photo of Itchy and I taking during the 50 mile ride at No Frills was used as a full page ad for the AERC in the 2006 Modern Arabian Horse magazine. With Libby and Flag, and prior to that Annie and Andy, we showed the ponies as pairs at all sorts of events - Christmas parades, shows, picnic drives and annual gatherings, CAA and ADS annual carriage conferences...always a delight to the public, and always a delight for us to drive and enjoy. Throughout the past 13 years I have also written about my adventures foxhunting with Itchy and Andy. I was honored to have received my colors in 2011 but the next year was the last year foxhunting for both Itchy and I. He was getting on towards 22, and I felt I needed a respite, having been hunting on and off for over 35 years. So at the end of the year, both he and I retired from hunting, and from the Endurance ranks.

I planned, the coming year, to simply relax in the Limited Distance division with darling Drummer.

Yup. That was my plan....

...until the middle of last year.

Then something strange happened.

I changed direction. Oddly enough, I had started biking in the Spring of 2012 in order to get in better shape before I started up Drummer in training for Endurance.

But what happened was... I found I was spending more time on my bike than driving or riding my ponies. And I was honestly loving it. Loving riding the bike. Hmmmmm.

As the year wore on into summer, I began to find I wanted/needed/must have/demanded a better bike for riding the gravel roads - so I got one. Then I found an older classic (formerly expensive) bike that I just had to have - so we restored that one. Then finally,in the Fall of 2012, I found I had advanced myself to the point where I wanted/needed/must have/demanded a "fast" road bike - and in October I bought one.

And I've been having a love affair with my bicycles ever since.

And my ponies have been quite happy to sit and watch me zip down the driveway on my hybrid, or tootle down the driveway enroute to the bike path (15 miles east) with my gorgeous road bike carefully carried inside the car. They haven't minded getting fat...and lazy...as I got fitter and faster pedaling away.

And so there you have it. My ponies have been on a Sabbatical getting fat, rolling in the dirt, growing manes into long shaggy mops, and loving life.

As for me...well, I'm headed to several 50 mile bike rallies this year with an old endurance buddy who also has just gotten into biking at the same time. We're having a blast, riding our lovely road bikes, putting the miles on our wheels rather than hooves. Maybe, just maybe next year I'll be doing a century ride (100 miles in one day).

Of course, there will be a few carriages drives sprinkled into the upcoming spring through fall days. Can't have the ponies getting too fat!

So stay tuned. When I do write, don't be surprised if it doesn't contain any mention of ponies or harness, but rather gears and wheels. Either way, I hope you'll still continue to enjoy the monthly blogs - on real ponies, or chrome ponies.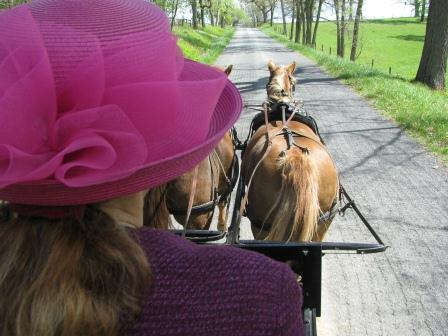 Bluebell Drive along the Shenandoah River, VA