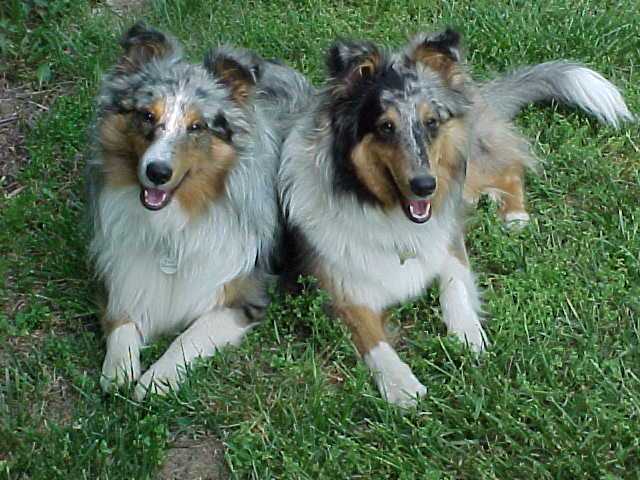 LOV Cast in Silver ("Sterling") and LOV Fair Maid of Perth ("Katie")
brother and sister blue merle Shetland Sheepdogs
by Sundar's Amos Major Dun-Dude out of Honeyridge Sweet Serenity
Born May 11th, 1999
Photo taken just before their 1st birthday - April 2000
Sterling - deceased July 18th, 2012 * Katie - deceased July 21st, 2014
How could I not love you both when I looked into your beautiful eyes for the first time.
As you danced around my feet, chasing one another with puppy abandon
Breaking off your games to run to us to lick and cuddle
Then back to your games, leaving me to stand and admire...and smile.

How could I not say yes to my young son, so wise for his years
As he said to me "We must get them both. Brother and sister."
And to the breeder who said she could see the kindness in me
And knew her small charges, brother and sister, the last of the litter, would be loved and cared for heart and soul.
How could I not smile when you both came home with us, cuddled on our laps, eager for a new adventure
As you raced together and explored your new home, already wiggled into our hearts
Growing up in the sunshine and happiness of your new family, still brother and sister
Learning together that my heart for you both had no bounds.
How could I not treasure the years of joy you have given me
As the love you so freely offered glowed so beautifully in your eyes
Wagging tails and snuggling together into my arms, one on each side, your sweet faces alive with delight
And the knowledge that I was held, a laughing captive, by your glee at winning a hand and arm and lap and face to lick.

How could I not see a reflection of myself in your eyes
As your devoted love that never wavered, never hesitated, looked out at me, shining
Always my boon companions, always happy to listen, always ready to follow me whereever I chose to go
Pretty gray shadows at my heel, always faithful to my call, eager to run to my hand.

How could I not remember the years you blossomed into adults.
Two incredibly beautiful intelligent dogs, brother and sister together
Sharing the years with us and filling them with a bouquet of happiness and sweetness
Never more than a hand away, a soft head always to pat and kiss and love.

How could I not want to relive that life gone by, the decade of photos
As I pasted each lovely picture in the album of years, so much a part of our human lives
Such funny moments captured, always endearing, always adorable
Always beautiful... brother and sister together.

How could I not cry when I laid each of you both to rest, Sterling first, gone far too soon
Our beautiful blue boy, always so happy, always so funny, always so loving
And then my dear, sweet girl Katie, keeping me smiling for two more years and three days until her last moments
Both now together again in death as they were born into life, brother and sister together.

How could I not smile now when I see your pretty graves, knowing under the ground
That you are both touching paws, facing one another, sharing a steak and a chocolate bar
Both buried in your halves of the same quilt, flowers at your head,
And a penny on your eyes for safe passage over the river and beyond the Rainbow bridge
Where you will wait for me when it is my turn to see you again, brother and sister together... forever.

To my beautiful Sterling and Katie from your adoring "Mom" - written July 2012, and July 2014